Prosoft HRMS
Build a Better Workforce with Our Human Resource Management System
Advanced HRM system with HR modules
Prosoft HRMS utilises a set of HR modules that cover the basic functionalities needed for end-to-end human resources management. Our modules can integrate with internal and external systems, allowing you to maximise the potential of your software solution. 
Our HRMS modules:
Personnel database
Payroll
Leave management
Claims
Timesheets
Attendance management
Recruitment
Performance appraisal
Training and development
Personnel
Ease and enhance employee database management. Track all employee information, including historical changes, and provide easy retrieval of information. Employees can perform self-service tasks such as updating of personal data.  This module complies with Personal Data Protection Act to ensure that all personnel data is protected.
Payroll
Simplify and automate the tedious task of calculating employees' wages. Define multiple pay runs, allowances and deductions that are applicable to every employee with detailed reports. Interface to your finance system's general ledger. 

Regional payroll software capabilities cover statutory requirements for China, Hong Kong, Indonesia, Macau, Malaysia, Philippines, Singapore, Taiwan, Thailand, Vietnam.
Leave
Streamline the entire leave administration process in your organisation – from leave eligibility and entitlement, to leave application and tracking, to on-leave compensation. Define unlimited types of leave. Ensure accuracy with leave management among employees and help provide managers with a complete understanding of leave trends, costs and entitlements.
Claims
Simplify expense claims administration for your organisation with our user-friendly human resource management solution. Allow various trackable claims for entitlements or reimbursements via the payroll software. Submit multiple claims in one app.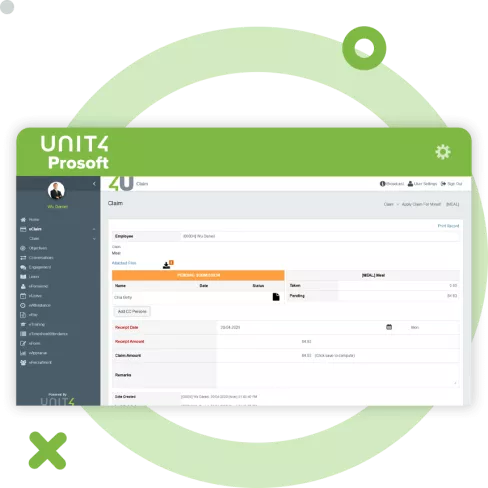 Timesheets
Simplify and streamline the the submission, tracking and processing of working hours, with online submission of work-related claims as well as reliable capture and access to working hours and cross-charging information. Monitor and track overtime hour records that are self-updated by employees, with minimum overhead. Export approved hours to Payroll system for processing without additional data input.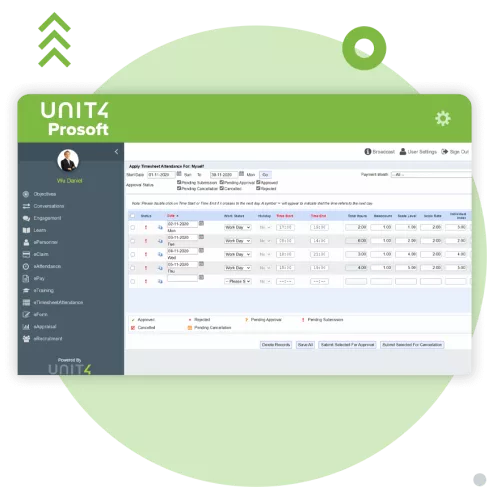 Attendance
Calculate all the time elements, based on employees' clocking, using our wide range of electronic clocks and the latest biometric verification devices with a comprehensive, flexible and extensible solution. Manage viewable attendance, overtime hours, overtime approval and payments.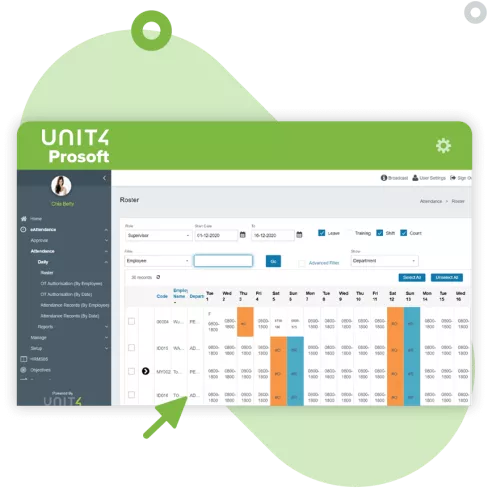 Recruitment
Unit4 Prosoft Recruitment module provides a one-stop solution to your recruiting needs, including staff requisition, job posting, candidate selection, confirmation and on-boarding.  The Recruitment module ensures a more efficient working experience for your HR and recruitment team. It also provides prospective candidates a seamless experience.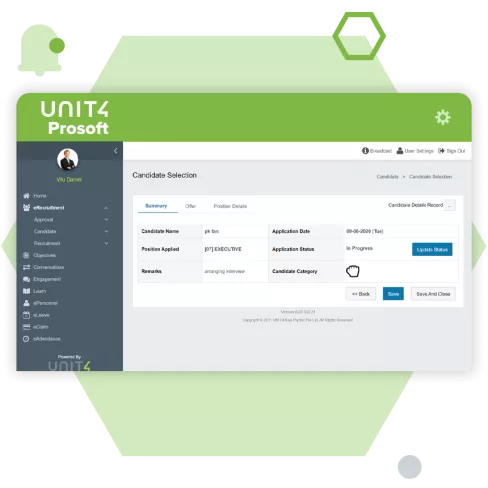 Appraisal
Conduct employee performance appraisals completely online, without time-consuming and inefficient traditional paper-based forms. The appraisal module also integrates with the training module so you can easily setup learning plans for all employees for an integrated human resource information system.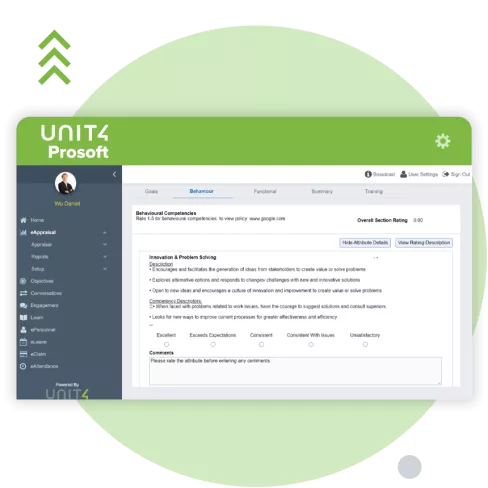 Training
Organise and oversee employees' training and learning needed to operate at optimal levels of performance and compliance at the highest level of success. Manage your training budget and oversee employees' competency level and training plans.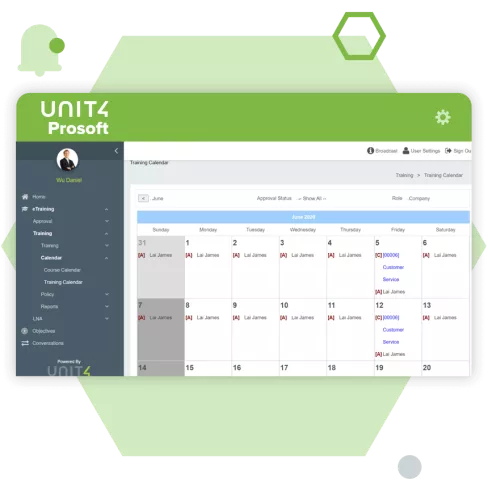 Watch a mini-demo
Unit4 Prosoft is a human resource management platform that seamlessly helps HR teams to track, manage and analyze employees through the entire Human Resource cycle including tools to enable, reward, develop and retain your talented people. 
Unit4 Prosoft capabilities
Selecting the right human resource management system can make a huge difference to future growth and success. Choose an HRMS with wide-ranging capabilities that will help elevate productivity levels, simplify routine administrative tasks, and streamline workflows, among many other things.
Unit4 Prosoft, specifically, comes with software features that can transform the HR department of every organisation. Through this HR solution, you can consolidate and manage data from various sources across multiple business entities, gain insights with detailed reporting, and process different pay runs with relevant employee allowances and deductions.
A highly configurable system, allowing super-users and admin users to configure the system.

Reduce the cost of post-implementation fees, significantly lowering the Total Cost of Ownership (TCO).

Deployment on cloud (SaaS) to enjoy enhanced performance, auto-scaling, geo-distribution and AI / natural language understanding.

Product, operations and hosting facilities are ISO9001 and ISO27001 certified for utmost data protection.
D + 1 Holding
"We are very pleased with D+1's automated solutions, and this has allowed us to focus on more value-added activities such as training and recruitment, due to HR spending less time on manually preparing and processing payroll for all our entities."

Amy Ching, Human Resources Manager, D+1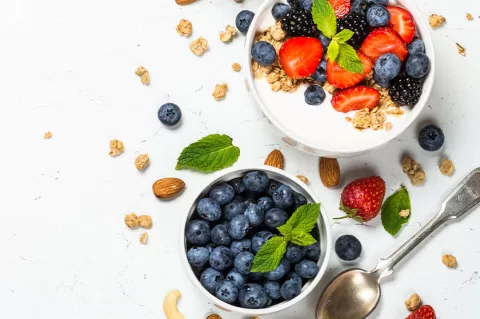 Oligo
"You can tell the [Unit4 Prosoft] technology is designed by HR experts for use by HR experts"
Bryant Shah, Sales Consultant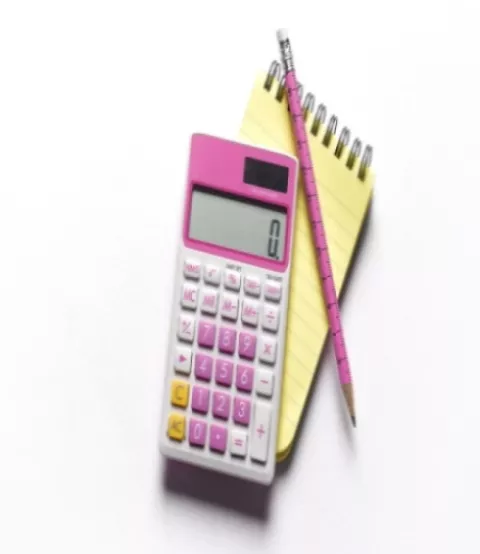 A single, easy-to-navigate space for all Unit4 support and information.

Join your peers to discuss tips and tricks
Help each other to get your job done and share success stories.

Together we can build best practices and maximize value to create a better people experience for all.